HOST A DINNER
Safe Parking Program Dinner Host
Help build a community of support for Safe Parking Program clients. Provide a meal and/or activity to people experiencing homelessness.
Volunteers needed at both our Aero Drive and Balboa Avenue locations
Must be available evenings from 5:30 to 8:00pm
ASSIST WITH CHILD CARE
Family & Children's Hub Helper
Support families enrolled in the Safe Parking Program by providing the opportunity for children and youth to have up to 2 hours of supervision in a safe and fun environment.
2-2.5 hours per week in the evening (6-8:30pm) for a 6 month commitment
Complete background check, handbook agreements, and provide 3 references
Must be at least 18 years old
SHARE YOUR KNOWLEDGE
Parenting Group Facilitator (Positive Parenting Program)
Use your own life experiences as a parent to connect with other parents, who are struggling with children.
Classes are typically held in the evenings at community centers in the South Bay area
2-3 hours per week for 6 months
Complete background check, TB test, DMV driving record, and handbook agreements
Must be at least 25 years old
FOSTER A SAFE LEARNING ENVIRONMENT
Child Activity Helper (Positive Parenting Program)
Play a vital role in the success of the program by providing fun and age appropriate child activities that support the parenting curriculum.
Flexible schedule (multiple times available in the morning, midday or evening)
Must be at least 18 years old
Clear a background check, agree to privacy & security policy, and provide references
Provide proof of an MMR, TDAP, and Hepatitis B
PROVIDE DIAPERS TO NEW PARENTS
Diaper Genie
This position is crucial for connecting our supply of diapers to parents and ensuring we have the correct sizes and quantities available for pick up.
Once or twice per week, 2-hour shifts
Must be at least 18 years old
Complete a background check and handbook agreements
Start a Campaign or Donation Drive for JFS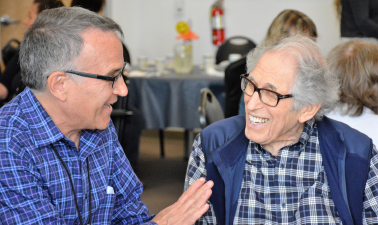 Celebrate a bar or bat mitzvah, birthday, wedding, anniversary, or other milestone by encouraging friends to give to JFS.
Aging Well Means Caring for Yourself on Many Levels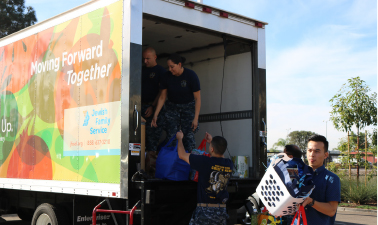 Helping San Diegans age with dignity is one of our main priorities. Services for older adults include Fix It home repair, Foodmobile meal delivery, On the Go transportation, Friendly Visits, and Geriatric Case Management.
Tikkun Olam in Action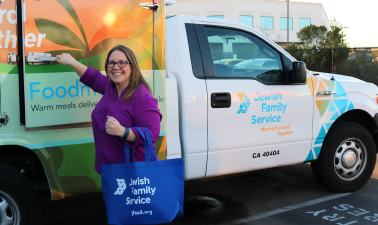 With volunteer-driven programs like Jewish Big Pals, JFS fosters meaningful ways for members of the Jewish community to live out our shared value of Tikkun Olam (repairing the world) in service to each other and the greater San Diego community.