MENTOR A REFUGEE FAMILY
Friendly Match Volunteer
Mentor a newly arrived refugee family by providing companionship and general acculturation support as they adapt to life in the U.S.. Bridge the gap between newcomers and host communities by connecting families to community resources and opportunities while providing much-needed "in-the-field" and supplemental assistance to case managers; together, we work to promote and establish their self-sufficiency.
Minimum commitment of 5-10 hours a week over a 4-month period
Scheduling is coordinated between the volunteer and refugee family.
Must complete background check and possess own vehicle
Must be 18 or older, if under 18 must be accompanied by an adult
HELP IMMIGRANTS GAIN CITIZENSHIP
Citizenship Teaching Assistant
Assist in the classroom to prepare lawful permanent residents for the civics (U.S. history and government) and English (reading, writing, and speaking) components of the naturalization test.
Service Areas: Mostly in City Heights, El Cajon, National City or Kearny Mesa
Must be able to assist for one full class (once a week for 10 weeks)
Must be 18 or older
One year experience in ESL teaching or citizenship teaching to adults (is preferred, but not required)
Must be sensitive to diverse cultures and non-English speakers
TRANSLATE OR INTERPRET FOR A FAMILY
Volunteer Translator
Translate documents for Refugee Resettlement staff members or work under direction of immigration attorney to interpret in-person or telephonic correspondences with clients.
Languages Needed: Arabic, Farsi, French, Swahili, Kinyarwanda, Amharic, Somali, Burmese
Minimum commitment of 2-3 hours per week for 4 months
On-Call Position, as needed basis
Fluent understanding of written English and a second language is required
Must be 13 or older
BE A GUIDE
Public Transportation Navigator
Help newly arrived refugees learn the public transportation system in San Diego and plan their routes to work, school, and appointments.
Knowledge of Google maps or other navigation apps.
Comfortable using public transportation, willing to travel to El Cajon, National City, and City Heights.
Work well with people from different cultural backgrounds, and with limited English.
OFFER ADMINISTRATIVE SUPPORT
Case Aides, Interns, Program Assistants
Help us serve every immigrant efficiently and professionally, by aiding in office and administrative duties, this volunteer will increase the efficiency of casework completion and assist in efforts to document service provision, contributing to the team as we continue to support immigrant families in a valuable way.
Minimum commitment of 5-10 hours per week for 3 months
Scheduling is coordinated between the volunteer and staff
Must be 18 or older
Start a Campaign or Donation Drive for JFS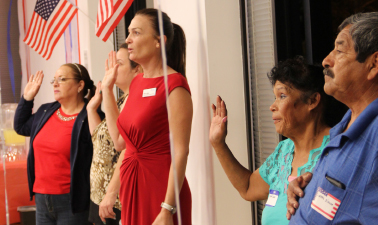 Celebrate a bar or bat mitzvah, birthday, wedding, anniversary, or other milestone by encouraging friends to give to JFS.
Refugee Resettlement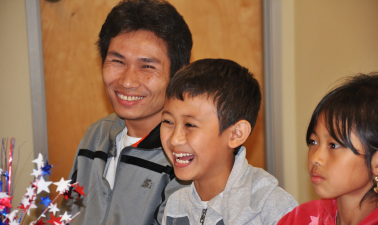 Learn more about how we live the Jewish value of Welcoming the Stranger by helping refugees rebuild their lives in their new home, San Diego.
No One Stands Alone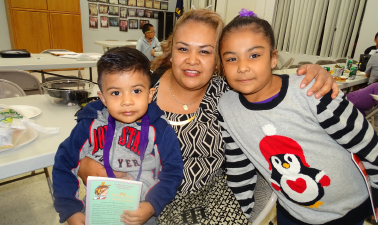 JFS is a proud member and legal partner of the San Diego Rapid Response Network. Together, we respond to the needs of vulnerable immigrants and their families.