ORGANIZE A SUPPLY DRIVE OR CARE PACKAGE
Send Some Love to Someone Who Needs It
Help people in our community get back on their feet by sending care packages or conducting a food, hygiene, or school supply drive! Engage your network to make a meaningful impact in the community. Donation bins can be provided.
HOST A DINNER
Safe Parking Program Dinner Host
Help build a community of support for Safe Parking Program clients. Provide a meal and/or activity to people experiencing homelessness.
Volunteers needed at both our Aero Drive and Balboa Avenue locations
Must be available evenings from 5:30 to 8:00pm
EMBRACE A FAMILY FOR THE HOLIDAYS
Embrace-A-Family
Bring holiday joy to families in need during the December holidays. Embracers are matched with a family in need and provide toys, clothes, food, gift cards, and more for the holiday season. Embracers are provided with a description of the family, including gender and ages of children, and their holiday wish lists. This is a great way for you, your family, group, and/or business to make the holiday season a little brighter for a family who is struggling to make ends meet.
UPLIFT PEOPLE EXPERIENCING HOMELESSNESS
Organize a Meal or Donate Needed Items
The Safe Parking Program provides a safe and welcoming environment for unsheltered families and individuals living in their cars, many of whom have recently found themselves homeless for the first time. JFS understands that a vehicle is often a family's last asset, allowing them to access resources, look for employment, or get to and from work and school.
MITZVAH PROJECTS
For Bar/Bat Mitzvah: Putting Tikkun Olam Into Action
Being a Bar or Bat Mitzvah is a special time. It's a time to embrace Tikkun Olam, and make a difference in the world. And it's a time to choose a meaningful and enjoyable Mitzvah Project.
As a premier human care service agency in San Diego, we're a natural fit. We can tailor any of our volunteer opportunities to meet the interests and passions of teens, while accommodating busy schedules and small windows of time.
Here are just a few of the projects we can do together:
Conducting a drive for personal hygiene items, backpacks, and school supplies.
Leading an arts and crafts project for children at a Hand Up food distribution or at the Children's Hub at our Safe Parking Program
Conducting a food drive for the Hand Up Food Pantry.
Bringing activities to older adults at our Social & Wellness Centers.
Contributing to holiday programs through donations or volunteering—Passover Packages, Thanksgiving Packages, Embrace-A-Family.
Bring companionship to an isolated individual.
And much more!
Helping others is a beautiful feeling and an important Jewish value. Let us help you find the perfect Mitzvah Project, and we'll ensure it's both meaningful and rewarding.
For more information, contact Chrissy Califf at (858) 637-3050 or chrissyc@jfssd.org.
Start a Campaign or Donation Drive for JFS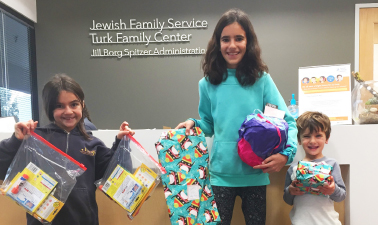 Celebrate a bar or bat mitzvah, birthday, wedding, anniversary, or other milestone by encouraging friends to give to JFS.
Get Hands On with Hand Up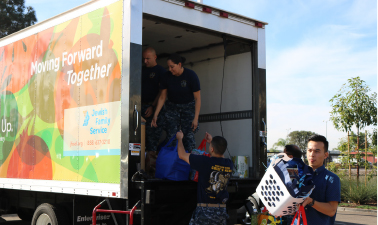 The Hand Up Food Pantry relies on a dedicated team of volunteers to help us connect local families with more than 258,000 pounds of nutritious food each year. We offer individual and group volunteer opportunities – great for corporate teams and families.
Tikkun Olam in Action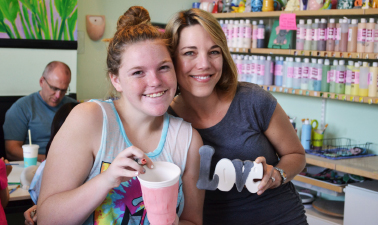 With volunteer-driven programs like Jewish Big Pals, JFS fosters meaningful ways for members of the Jewish community to live out our shared value of Tikkun Olam (repairing the world) in service to each other and the greater San Diego community.